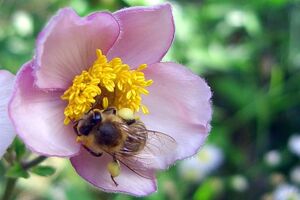 This page lists plants that contribute to the polin gathering of honeybees.
Pollen is a fine to coarse powder containing the microgametophytes of seed plants, which produce the male gametes (sperm cells). Pollen grains have a hard coat that protects the sperm cells during the process of their movement from the stamens to the pistil of flowering plants or from the male cone to the female cone of coniferous plants. When pollen lands on a compatible pistil or female cone (i.e., when pollination has occurred), it germinates and produces a pollen tube that transfers the sperm to the ovule (or female gametophyte). Individual pollen grains are small enough to require magnification to see detail.
Pages in category "Pollen"
The following 3 pages are in this category, out of 3 total.
Ad blocker interference detected!
Wikia is a free-to-use site that makes money from advertising. We have a modified experience for viewers using ad blockers

Wikia is not accessible if you've made further modifications. Remove the custom ad blocker rule(s) and the page will load as expected.