| | |
| --- | --- |
| | Note "Flowers" is still under construction |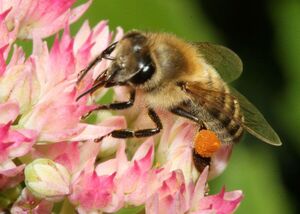 Flowers may arguable be the most important resource to honeybees. Along with the nectar that a flower secrete from there (citation), it also provide pollen that the honey bees use to create what is called bee bread. While it is obvious that bees need flowers, it must be mentioned that not all flowers can be foreged from by bees. Some flowers are hybrids and do not provide any pollen or nectar for any pollinating insects. Other flowers are only available to specific pollinators like the african carpenter bee, which uses a specific vibration to couse (flower citation needed) to release it's pollen.
Ad blocker interference detected!
Wikia is a free-to-use site that makes money from advertising. We have a modified experience for viewers using ad blockers

Wikia is not accessible if you've made further modifications. Remove the custom ad blocker rule(s) and the page will load as expected.