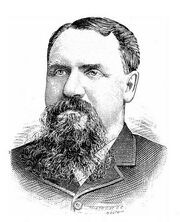 Gilbert M. Doolittle (1846-1918) was a 19th-century apiarist and author considered to be the father of commercial queen rearing. His book Scientific Queen-Rearing: As Practically Applied (Thomas G. Newman: Chicago, 1888) was reissued over several editions.
Doolittle also wrote ​​several brochures on beekeeping, and submitted regular articles to Gleanings in Bee Culture over many years. His involvement coincided with a great expansion of beekeeping knowledge in the United States.
Bibliography
Edit
Ad blocker interference detected!
Wikia is a free-to-use site that makes money from advertising. We have a modified experience for viewers using ad blockers

Wikia is not accessible if you've made further modifications. Remove the custom ad blocker rule(s) and the page will load as expected.