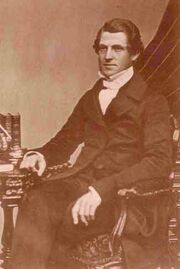 Philip Valpy Mourant Filleul (1824-1901)[1] was a 19th-century English cleric, apiarist, and author of several books on beekeeping. He wrote his first book under the pseudonym, A Country Curate. His writings focused on helping cottage beekeepers produce supplementary income.
Filleul was born at Saint Brélade, Jersey, of the Channel Islands on 26 August 1824 where his father was Rector of the local parish.[2] Despite his pseudonym, A Country Curate, his only curacy lasted just five and a half years of his career. At its end in 1853, Filleul moved to Tasmania (then called Van Dieman's land) where he accepted the wardenship of Christ's College. The college closed in 1857 with his resignation. Filleul then returned to England with his family in 1858. The Bishop of London offered him the rectorship of Biddisham, Somerset, upon his return. He accepted it, and worked there for 38 more years before retirement.
Bibliography
Edit
References
Edit
Ad blocker interference detected!
Wikia is a free-to-use site that makes money from advertising. We have a modified experience for viewers using ad blockers

Wikia is not accessible if you've made further modifications. Remove the custom ad blocker rule(s) and the page will load as expected.